NEEWER F100 7" HD Camera Field Monitor
---
Shipping from local warehouse based on your area, normally it takes 2~10 days for the delivery, Learn more at Shipping Policy.
Due to the impact of tariffs and logistics costs, prices vary by location.

⚠️WARNING:This product can expose you to chemicals including [Lead and Phthalates], which
is [are] known to the State of California to cause cancer. For more information go to
www.P65Warnings.ca.gov.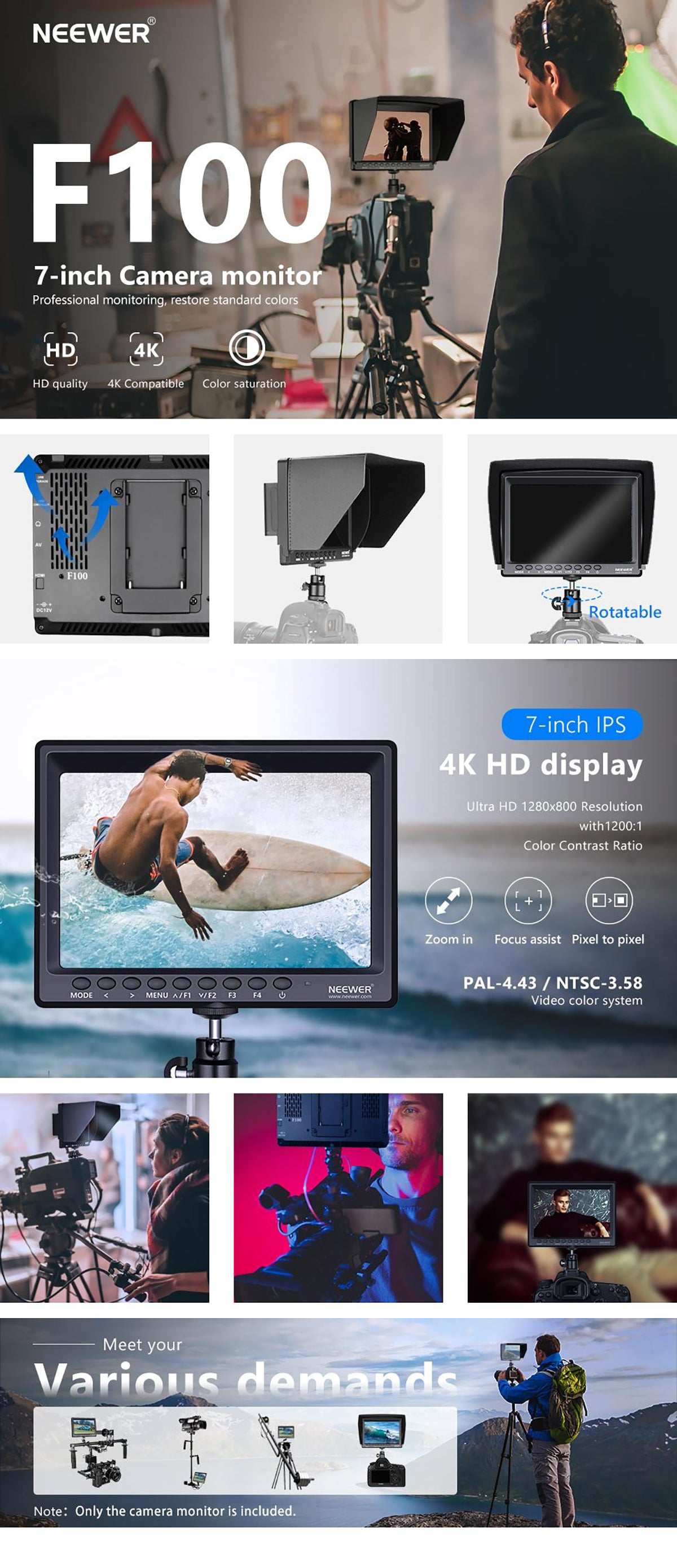 Description

External Field Monitor-Featuring a 7" IPS screen, HD 1280x 800 resolution, 450nits of brightness, a contrast ratio of 1200:1, an aspect ratio of 16:10, and 0.07875 × 0.07875mm dot pitch, this monitor is handy for video shooting
Supported Formats-Supports 1080i (60/59.94/50), 1080p (60/59.94/50/30/29.97/25/24/24sF/23.98/23.98sF), 720p (60/59.94/50/30/29/25/24/23.98), 576i, 576p, 480i, and 480p
Ultra-Thin Design & Wide Compatibility-With a 17mm ultra-thin design, the field monitor is lightweight and portable. Compatible with digital SLR cameras, camera kits, handheld stabilizers, camera cranes, and more. The included sunshade blocks harsh sunlight and makes the display visible outdoors

?Advanced Features-Includes monitoring tools such as Peaking Focus Assist, Check Field (Red, Green, Blue, Mono), Pixel to Pixel, Center Marker, Safe Frames (80%, 86%, 90%, 93%, 96%, 2.35:1, off), Image Flip (H, V, V_H), Image Freeze, and Custom Color Temperature
Possible prompts
Cannot turn on the monitor-Be sure you are powering the monitor with a 12V AC adapter. Or with an NP-F battery, check if it is fully charged and correctly installed. When power is on, the LED indicator will turn red. Wait for 6s and press the power button, the LED indicator will turn blue.
There is noise in my recorded videos-Press and hold the "<" button to decrease the volume close to zero. Doing so can eliminate noise in your videos.
"No Signal" or the signal connection is unstable-(1) Try another HDMI cable.(2) Connect the monitor to your PC via the HDMI cable and see if your monitor has a signal. (3)Change the signal output of your camera. Make sure the signal is in HDMI mode, and the monitor's input signal supports your camera's output signal. (4)The monitor will lose its signal when the camera is off. Please make your camera's display stay on longer (disable auto-off if possible) or turn on the camera's live view function.
Specifications
Model: F100
Panel Type: IPS LCD
Resolution: 1280x 800
Backlight: LED
Dot Pitch: 0.07875x 0.07875mm
Aspect Ratio: 16:10
Brightness: 450nits
Contrast Ratio: 1200:1
Viewing Angle: 80°/80° (L/R), 80°/80° (U/D)
Inputs: HDMI, AV
Video Color System: PAL-4.43 / NTSC-3.58
HDMI Support Mode:
480i / 480p / 576i / 576p / 720p/ 1080i (60/59.94/50) / 1080p (60/59.94/50/30/29.97/25/24/24sF/23.98/23.98sF)
Input Voltage: DC 7–24V
Power Consumption: ≤8W
Battery Type: NP-F battery
Dimensions: 6.9" x 5.1"x 0.7" / 176x 130x 17mm
Weight: 13oz / 370g
Package Contents
1x F100 Field Monitor
1x Sunshade
1x Mini HDMI Cable
1x Micro HDMI Cable
1x AV Cable
1x Mini Ball Head
1x User Manual
Note:NP-F battery and 12V adapter NOT included.