NEEWER F100 7 Inch Camera Field Monitor HD Video Assist Slim IPS 1280x800 HDMI Input 1080p with Sunshade and Mini Ball Head
---
Blank

All Neewer products carry a 1-year warranty (used products supplied by a third party are not covered), valid from the purchase transaction date. The warranty covers product defects and provides replacement of the defective product or serviceable component.

If a return is required, the buyer is responsible for any associated return shipping costs (i.e from the buyer to Neewer's return address) and Neewer pays for postage to ship the replacement item back to the buyer. In some cases, at Neewer's discretion, the buyer may receive a refund if a replacement is not immediately available. Refunds issued are for the cost of the item only; no handling or shipping fees will be refunded. Please note that before a replacement item is dispatched, or refund issued, Neewer must receive the returned item in the agreed condition. As our sales are online, without a physical store to inspect the defective product, we reserve the right to request picture or video evidence illustrating the defect to honor the warranty.

Please Note: Your product is automatically covered under warranty effective from the date of purchase. Please provide your order number and a photo / video in the event of a claim.  For Amazon orders, the name of the seller, or a screenshot should also be provided.

The following limitations and exception apply and are not covered by the 1-year warranty:

Used products from a third party, such as

from Amazon EU S.a.r.L., Amazon.com Services LLC

, etc.
Normal wear and tear.
Loss or theft.
Physical damage due to misuse or accident.
Water damage or any other damage or defect related to misuse

Only Neewer products are covered, no other item is covered, including items used in tandem with a Neewer product, irrespective of cost.

Buyer attempts unauthorized repairs, modifications, or disassembles the item.

Item is damaged by plugging it into an incompatible voltage. All plug-in items have voltages clearly displayed on the Amazon detail page. For international travel, a step-up / step down convertor is required to accommodate these variations.

To claim a warranty, please reach out to us at support@neewer.com. All claims for products missing / not received must be registered within 90 days of the purchase date. After this time, we no longer have traceability with our logistical providers and cannot accept a claim. Contents of the package should be checked upon delivery and any missing parts claimed for within 2 days of receipt.

Extension requests to the warranty due to COVID are regretably not commercially viable. We have continued provision of products for purchase and use throughout the pandemic and our team continues to work hard to sustain this.
Note:

In many areas, Saturday and Sunday delivery may not be available. Otherwise, our shipping methods apply to business days only, not weekends or holidays.

Expedited shipping is NOT available in any location.

Orders cannot be delivered to PO BOX addresses or to islands or territories.

Logistics updates during the COVID-19:

Neewer.com's activities are currently continuing. However, delivery times may be longer than usual. For specific shipping situations of each order, please contact our customer service:

support@neewer.com

Orders will be fulfilled within 48 hours.

Shipping Area:

United States, Canada, United Kingdom, Germany, France, Spain, Italy 

Belgium, Luxembourg, Netherlands, Portugal, Ireland, Austria, Bulgaria, Czech Republic, Denmark, Estonia, Finland, Greece, Hungary, Latvia, Lithuania, Poland, Romania, Slovakia, Slovenia, and Sweden.

All islands are not included in the delivery area.

Shipping Speed:


When shipping within the contiguous U.S., your order will arrive within 4 to 6 business days but could also be up to 10 business days based on your location.
When shipping within the EU, your order will arrive within 7 to 15 business days based on your location.
⚠️WARNING:This product can expose you to chemicals including [Lead and Phthalates], which
is [are] known to the State of California to cause cancer. For more information go to
www.P65Warnings.ca.gov.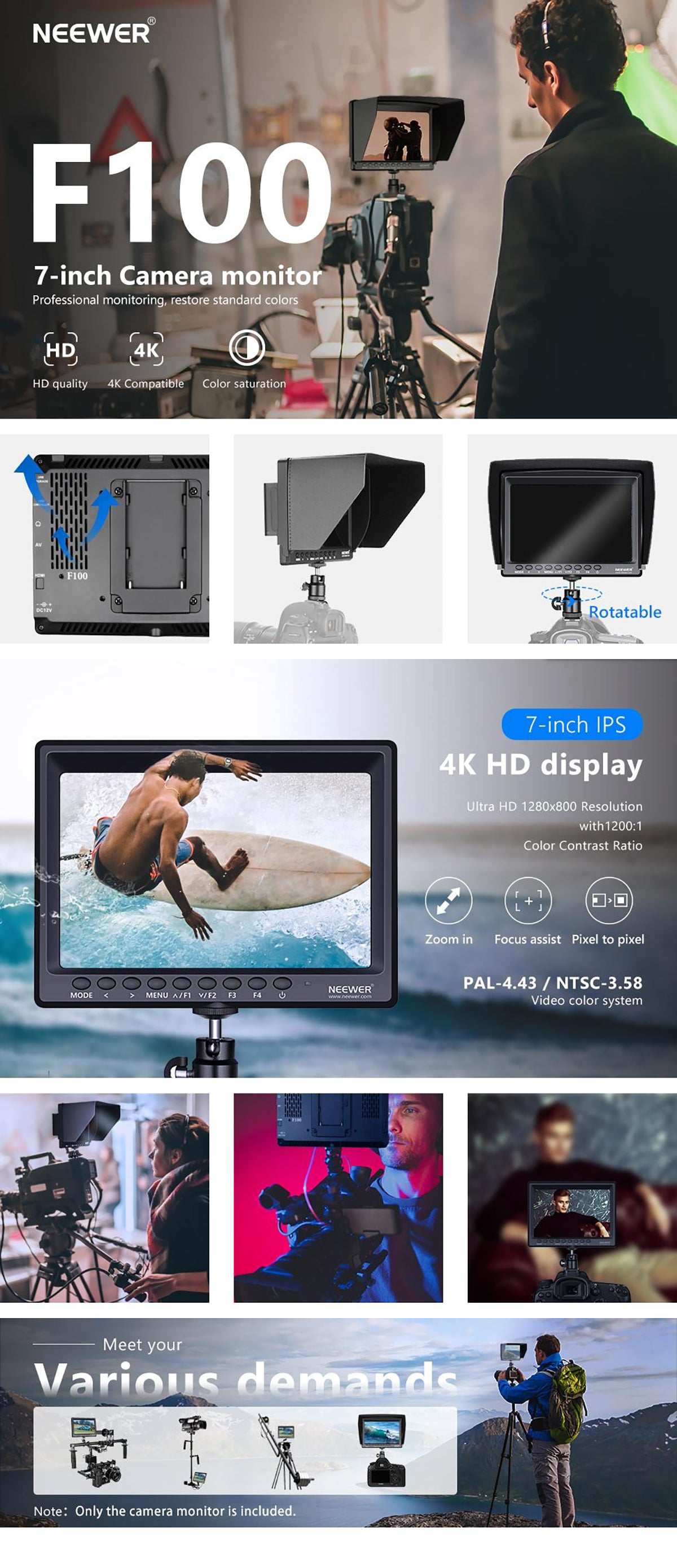 Note: 
NP-F battery and 12V adapter NOT included.
Description

External Field Monitor- Featuring a 7" IPS screen, HD 1280 x 800 resolution, 450cd/m² of brightness, a contrast ratio of 1200:1, an aspect ratio of 16:10, and 0.07875 × 0.07875mm dot pitch, this monitor is handy for video shooting
Supported Formats- Supports 1080i (60/59.94/50), 1080p (60/59.94/50/30/29.97/25/24/24sF/23.98/23.98sF), 720p (60/59.94/50/30/29/25/24/23.98), 576i, 576p, 480i, and 480p
Ultra-Thin Design & Wide Compatibility- With a 17mm ultra-thin design, the field monitor is lightweight and portable. Compatible with digital SLR cameras, camera kits, handheld stabilizers, camera cranes, and more. The included sunshade blocks harsh sunlight and makes the display visible outdoors

 Advanced Features- Includes monitoring tools such as Peaking Focus Assist, Check Field (Red, Green, Blue, Mono), Pixel to Pixel, Center Marker, Safe Frames (80%, 86%, 90%, 93%, 96%, 2.35:1, off), Image Flip (H, V, V_H), Image Freeze, and Custom Color Temperature
Possible prompts
Cannot turn on the monitor- Be sure you are powering the monitor with a 12V AC adapter. Or with an NP-F battery, check if it is fully charged and correctly installed. When power is on, the LED indicator will turn red. Wait for 6s and press the power button, the LED indicator will turn blue. 
There is noise in my recorded videos- Press and hold the "<" button to decrease the volume close to zero. Doing so can eliminate noise in your videos. 
"No Signal" or the signal connection is unstable- (1) Try another HDMI cable. (2) Connect the monitor to your PC via the HDMI cable and see if your monitor has a signal. (3) Change the signal output of your camera. Make sure the signal is in HDMI mode, and the monitor's input signal supports your camera's output signal. (4) The monitor will lose its signal when the camera is off. Please make your camera's display stay on longer (disable auto-off if possible) or turn on the camera's live view function.
Specifications
Model: F100
Panel Type: IPS LCD
Resolution: 1280 x 800
Backlight: LED
Dot Pitch: 0.07875 x 0.07875mm
Aspect Ratio: 16:10
Brightness: 450cd/m²
Contrast Ratio: 1200:1
Viewing Angle: 80°/80° (L/R), 80°/80° (U/D)
Inputs: HDMI, AV
Video Color System: PAL-4.43 / NTSC-3.58
HDMI Support Mode:
480i / 480p / 576i / 576p / 720p/ 1080i (60/59.94/50) / 1080p (60/59.94/50/30/29.97/25/24/24sF/23.98/23.98sF) 
Input Voltage: DC 7–24V
Power Consumption: ≤8W
Battery Type: NP-F battery
Dimensions: 6.9" x 5.1" x 0.7" / 176 x 130 x 17mm
Weight: 13oz / 370g
Package Contents
1 x F100 Field Monitor
1 x Sunshade
1 x Mini HDMI Cable
1 x Micro HDMI Cable
1 x AV Cable
1 x Mini Ball Head
1 x User Manual