2
Yes
None
1
15
Search...
/products/
Neewer TT560 Speedlite Flash Kit for Canon Nikon Sony Pentax DSLR Camera with Standard Hot Shoe,Includes: (1)TT560 Flash + (1)Flash Diffuser + (1)Remote Control
Bullet Points:
Neewer Professional Speedlite Flash is compatible with all cameras with a standard hot shoe mount – Canon EOS Rebel, Nikon, Pentax and Olympus Cameras including Coolpix, Powershot, Four Thirds, Micro Four Thirds cameras.
Powerful Manual Flash with High Guide No. 33(m) / 108(ft).
Includes Neewer TT520 Photo Flash, Flash Stand, Softbox Flash Diffuser, Universal Remote Control,
Features a built-in flip down wide angle flash diffuser and reflection panel.
Backed with Neewer 6-Month 100% Satisfaction Guarantee.
– Neewer TT520 Flash Speedlite for Canon Nikon Sony Panasonic Olympus Fujifilm Pentax Sigma Minolta Leica and Other SLR Digital SLR Film SLR Cameras and Digital Cameras with Standard Hot Shoe
Guide Number:33 ( ISO 100 )
Flash Mode: M, S1, S2
Bounce, Swivel, Zoom Head. Vertical Rotation Angle: 0~90 Degrees. Horizontal Rotation Angle: 0~270 Degrees.
Contains a built-in flip down wide angle flash diffuser and reflection panel.
Includes a flash stand with tripod mount, and high quality protective drawstring pouch.
Use in slave mode with a highly sensitive wireless triggering sensor. Use in manual, S1 or S2 mode.
Recycle Time :approx 0.5-5s ( AA alkaline batteries used )
Color Temperature: 5600K+200K
Flash Duration :1/800s-1/2000s
Lighting Times: 100-1500 times ( AA alkaline batteries used )
Light Quantity Output Control :with 1/8 – stop increment
Power: 4xAAsize batteries ( Alkaline or Ni-MH are usable )
-Photo Softbox Flash Diffuser
Softbox diffuser conveniently folds to allow you to easily store and travel with it while offering pristine diffusing effects.
This Neewer diffuser will attach to any flash unit and qualitatively dampen the harshness of a direct flash, making this ideal for indoor, portrait, and macro photography.
– Universal Wireless Remote Control Shutter Release
Whether you're using a Canon, Nikon, Pentax, or any other DSLR camera, this infrared remote allows you to wirelessly use your camera's autofocus and shutter functions
ideal for tripod use any situation in which camera shake can ruin a photo.
Please note: Camera must have an infrared receiver in order to function.Please check your camera's manual in order to confirm feature availability.
Neewer 2.4G Wireless HSS E-TTL LCD Display Master Slave Flash Speedlite for Canon DSLR Cameras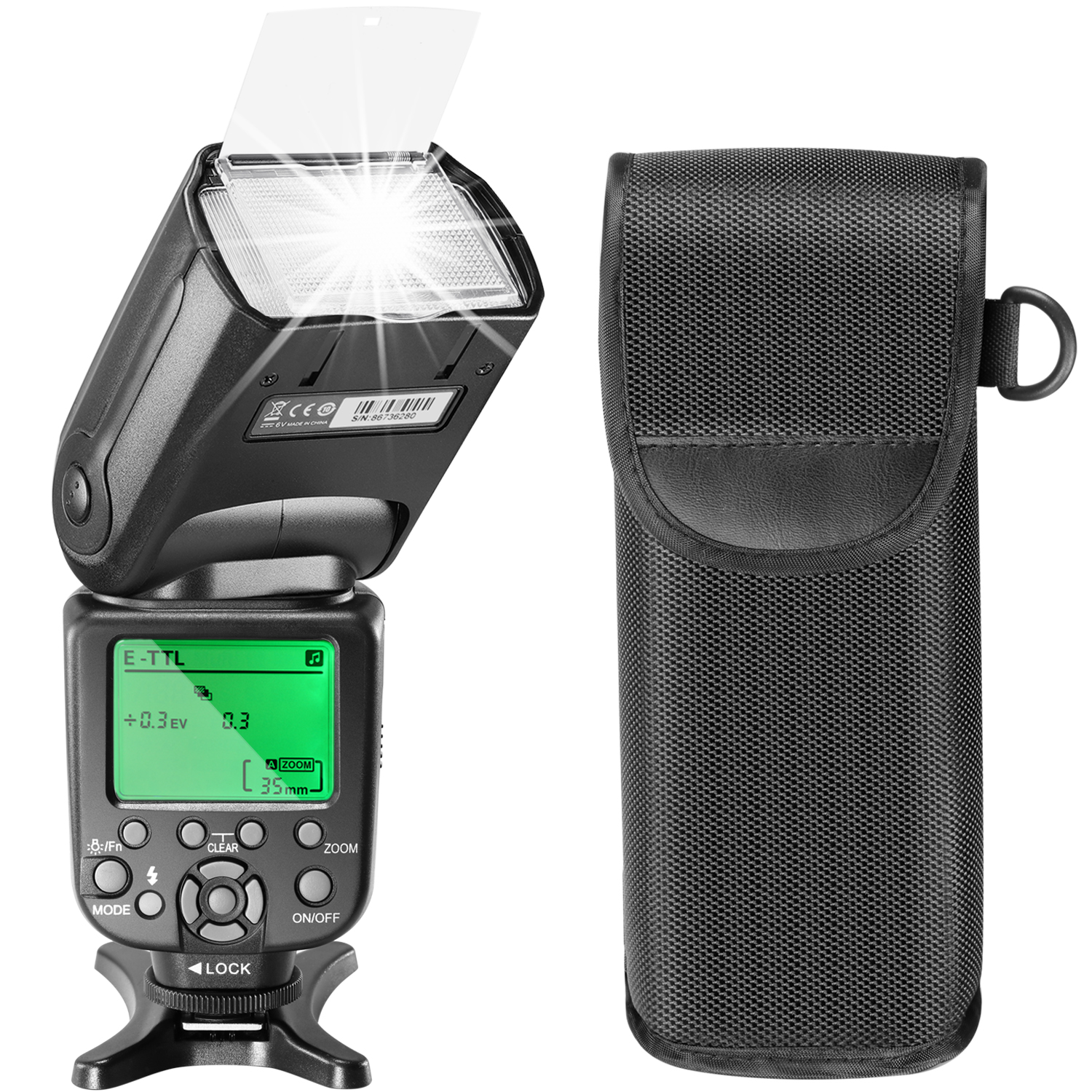 Note: Camera is not included.
Specification:
Guide No.: 58(ISO 100,180mm)
Flash Coverage: 18 to 180mm
Auto/Manual Zoom
Flash Mode: TTL, M, Multi, FEC, Master, Slave, S1, S2
Flash duration:1/200s to 1/20000s
Power output: 8 steps 1/128-1/1
Wireless flash: Optic/2.4G transmission
Optical: 4 Channels(1 2 3 4),3 Groups(A,B,C)
2.4G:16 Channels(1-16),3 Groups(A,B,C)
Wireless triggering distance: 2.4G(100m); 12-15m(Indoor);8-10m(Outdoor)
Tilting head:0-180 degree horizontally and -7-90 degree vertically
Color temperature:5500K
Recycle time:Approx.3 seconds
Flash times:100-1500 times
Power Supply: Ni-MH/4*LR6 alkaline batteries(not included)
Peripheral Interface: Hot shoe, PC Sync jack, external power port
Additional function: Rear curtain sync, Flash exposure compensation, AF Assist Beam, Custom function setting, Over temperature protection, power saving mode
Package Contents:
1x NW871 FLASH FOR Canon
Neewer NW-1 Matte Finished 24-Inch Sapele Concert Ukulele 4-Strings with Rosewood Fingerboard and Bridge
Neewer NW-1 Matte Finished 24-Inch Sapele concert Ukulele 4 Strings with Rosewood Fingerboard and Bridge, Buffalo Bone Nut and Saddle, Laser Engraving Sound Hole Flower Fretwork Features: 4 Strings 24-Inch concert Ukulele.
NOTE: Guitar Stand in the pictures NOT INCLUDED
18 Brass Frets. Sapele body and neck. Rosewood fingerboard and bridge. Buffalo bone nut & saddle Detailed craftsmanship with laser engraving sound hole flower Matte finish and geared metal tuners
NOTE: Guitar Stand in the pictures NOT INCLUDED! Description: Neewer NW-1 24-Inch Sapele concert Ukulele is constructed with premium sapele and rosewood and equipped with AQUILA NYLGUT Strings, offering a classic, full and rich sound. 18 Brass Frets. Trimmed in a classic black binding. Beautiful laser engraving sound hole flower fretwork. Comes in a matte finish that gives it a traditional look. Specifications: Size: 24-Inch Frets: 18 Color: Brown Back & Side Board: Sapele Neck: Sapele Fingerboard & Bridge: Rosewood Nut & Saddle: Buffalo Bone Peg: Full-Enclosed Sound Hole Flower: Laser Engraving Binding: Black Package Contents: 1 * 24-Inch Sapele concert Ukulele
Neewer Adjustable Microphone Suspension Boom Scissor Arm Stand
PLEASE NOTE:

1. The Stand is NOT Suitable for Blue Yeti USB Microphone.

2. Max. Microphone Clip Diameter is 1.26″/32mm.

3. Microphone & Filter Shield Mask NOT Included!
(1) Microphone Scissor Arm Stand (BLACK) + (1) Table Mounting Clamp (BLACK):
Ideal for radio broadcasting studio, voice-over sound studio, stages, and TV stations, etc. YOU CAN NOT MISS IT!
The Scissor Arm Stand is equipped with super-strong spring so that it can stand much more weight.
Your microphone is held safely and firmly on this scissor arm microphone clip.
The double-braced arms add strength. Extend up to Approx.31.5″/80cm.
Max load: Approx 2KG
Material: Steel
Color: Black
(1) Standard Microphone Clip (PLASTIC/BLACK):
A standard microphone clip to mount most standard-sized handheld microphone.
Package Contents:
1x Black Microphone Scissor Arm Stand
1x Black Table Mounting Clamp
1x Black Microphone Clip